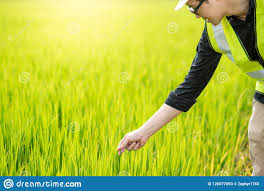 Agronomy
is the science and technology of studying
plants
for
agriculture
for food, fibre, fuel,
crop
production, soil management and land restoration. Agronomists specialise in the areas of
crop
rotation,
irrigation
, drainage,
plant breeding
, soil classification,
plant physiology
, soil fertility, weed control, insect and pest control. The Agroecology works with the areas of sustainable
agriculture
,
organic farming
, alternative food and cropping systems. The Agricultural scientists focus on important issues on agricultural research, in different fields of
agricultural sciences
. They work on
crop sciences
,
forestry sciences
and natural resource management sciences for impacting
agriculture
growth and development globally. The fertilizer is one of the essential for the growth of
plants
. Fertilizers enhance the effectiveness of the soil by modifying water retention and aeration. The three fertilizers providing nitrogen, phosphorus and potassium are NPK Fertilizers.