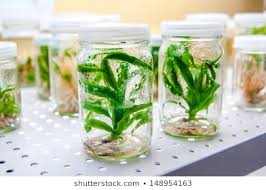 Plant tissue culture
is the collection of techniques that are used to maintain or grow plants under sterile conditions on a nutrient culture medium. It is widely used to produce the clones of a plant in a method known as
micro-propagation
. The ability of plant cells to regenerate as a whole plant called
totipotency
. The tissue obtained from a plant that to be cultured is called an
explant
.
Plant tissue culture
is supposed to be the most efficient technology for
crop improvement
.
Genetic engineering
technology relies on the
plant tissue culture
for production of improved
crop varieties
, production of disease-free plants,
Genetic transformation
, production of secondary metabolites and production of varieties tolerant to salinity, drought and heat stresses.